Watts' New!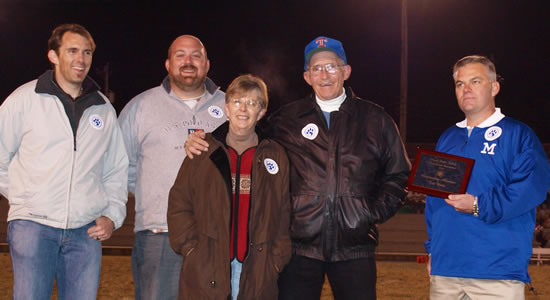 Story courtesy of Jim Ellis, Miami News Record
Ted Watts, a 1960 grad of MHS, was honored by the Miami Public Schools Enrichment Foundation prior to the kickoff of the homecoming football game Friday night when the Miami Wardogs entertained Skiatook.
"I am so pleased," Watts said, "It gets me that people thought enough of me to recommend me for that honor." "We are delighted to honor Mr. Watts for the outstanding achievements in his field," said Brett Hayes, chair of the MPSEF outstanding alumni committee. "We hope his career will inspire our current and future students to strive for excellence." This marks the 16th year of honoring Miami's outstanding graduates, which include Heisman Trophy winner Steve Owens, world renowned artist Charles Banks Wilson, women's rights activist Fern Holland and NASA engineer Brian Anderson.
I am used to being the guy on the other side of the publicity," Watts said. "I have given folks publicity doing things to honor other people and I'm not really quite used to somebody honoring me for just doing my job." Watts' client list includes more than 150 colleges and universities, including Oklahoma, Kansas, Arkansas, Notre Dame, TCU, Wichita State, the United States Olympic Committee and the NCAA. Watts' fondest memories of growing up in Miami - he moved here in 1956 as a freshmen - included playing Wardog sports and being able to study under Wilson while a student at Northeastern A&M.;
"He was my mentor - he taught me so much," Watts said. "Miami has brought a lot of attention to me. I am grateful for that. I have lots of friends in Miami who have helped me out along the way, not the least being Charles Banks Wilson."
__________________
PHOTO: Jim Ellis, Sports Editor - Miami News-Record, Miami, Oklahoma
---
Ted on TV?
You bet! During a recent visit to Southeast Kansas, the Going Long crew from CBS College Sports and CSTV.com stopped by to visit with Ted right at home in Oswego. View the video Poetry in Motion: CBS College Sports Network & ESPN Feature Story.
---
Miami High School Famous Wardogs
Did Ya Know? Both 1969 Heisman Trophy Winner Steve Owens from Oklahoma and nationally acclaimed sports artist Ted Watts are Miami, Oklahoma High School graduates.

---
A Meeting of Artists
June 23, 2008: Oswego, KS sports artist Ted Watts welcomed artist Dianne Lieber, nationally renowned for floral and gardening designs, paintings and poetry for a tour of his studio Monday afternoon.
C. Dianne Lieber Bio: www.thegardenersglove.com/AboutTheArtist.php
~
Website: www.thegardenersglove.com
---
A Studio Visit
September 26, 2008: Once a Wardog. . .Always a Wardog!
---
Tebow Heisman Art Unveiled at Hall of Fame Ceremony
Sports artist Ted Watts announced today that his portrait of 2007 Heisman Trophy winner Tim Tebow more......
---
Tim, Ted & "The Big Train"
Oswego (KS) - ESPN's Tim Kurkjian, the acclaimed baseball analyst and nationally renowned sports artist Ted Watts were on hand for Saturday's reunion of The Rotarians, Oswego's 1952 state championship Ban Johnson semi-pro baseball team. more...
---
Dynamic Duo
CHAMPIONSHIP TRIBUTE: Sports Artist Ted Watts from Oswego, Kansas and Keith Zimmerman of KC's Double Dog Sports and Entertainment with "Kansas City Chiefs - Super Bowl IV Champs" original art.
Art Originally Unveiled - Great Mall of the Great Plains - Olathe, Kansas (November 2, 2000). more...
---
Triple Self Portrait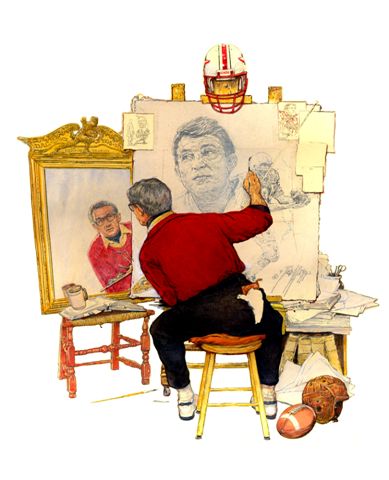 © 1996
(After Norman Rockwell's February 13, 1960 Saturday Evening Post Cover)


Ted