The University of Kansas Gallery
For thirty years (1976 -2005), the University of Kansas displayed more Ted Watts sports art original paintings than any other college or university, sports hall of fame, gallery or private collection in the United States ... and that included the artist's own private collection and studio in Oswego.
Jayhawk sports fans of the last quarter of the twentieth century were familiar with Ted's University of Kansas portraits of past Jayhawk sports icons that had adorned the halls of Allen Fieldhouse on the KU campus in Lawrence until the opening of the Booth Family Hall of Athletics in January 2006, when the art series was retired.
The idea for an Allen Fieldhouse art portrait display painting series of University of Kansas Athletic Hall of Fame personalities was conceived in October 1976 by then KU Athletics Director Clyde Walker (1973-78). When it got around to picking an artist, Walker didn't have to look too far from Lawrence - selecting native Kansan Watts to be the "paintbrush" for his vision.
Watts first three Hall of Fame paintings were of Dr. James Naismith, Gale Sayers and Wilt Chamberlain. He completed the initial collection of 82 paintings between October 1976 and March 1978; then updated the series annually as new Jayhawk notables qualified for selection.
Through 2005, the series numbered over 170 paintings and was the largest collection of any that Watts had ever produced for display by any one client.
Other Jayhawk sports art by Watts over the years includes media and program cover art, posters and other illustrations for the KU sports information department publicity efforts; Williams Educational Fund art tributes and fund raisers; KU sanctioned commercially marketed gift items; and private commissions for the collections of Jayhawk coaches, athletes, boosters and friends of the athletic department.
Recently retired , Watts hasn't gotten the Crimson and Blue out of his blood or off of his artistic palette.
He is currently working on four KU sports art projects: an art montage tribute to the Kansas 2008 NCAA Basketball Champions; portraits of Jayhawk coaches Bill Self (basketball) and Mark Mangino (football); and has begun preliminary drawings for his 'dream project' - a Kansas Jayhawks Basketball mural.
"I just retired in December 2007 is all," Watts chuckled. "I'll never stop drawing and painting the things I care about most. . .which always includes KU sports."
'Allen Fieldhouse' 50th Anniversery Poster- Kansas
'Home of the Jayhawks' (1955-2005)
Celebrate the 50th Anniversery of Allen Fieldhouse- University of Kansas
Features Seventeen KU Athletics Hall of Fame Basketball Players - (1955-2005)
Portraits by Ted Watts
Poster Size: 28"x22"

---

Dr. James Naismith
'The Father of Basketball'
Head Coach-Kansas
(1898-1907)

Dr. F.C. 'Phog' Allen
'The Father of Basketball Coaching'
Head Coach-Kansas
(1907-09 & 1919-56)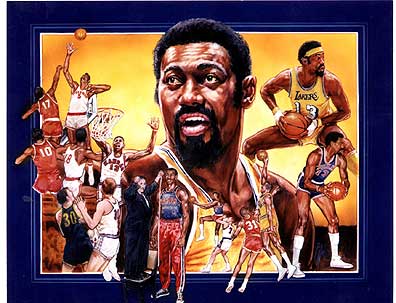 Wilt Chamberlain
(Career Montage)
KU Basketball & Track & Field
(1956-58)
---