Pittsburg State University Gallery
Drawing Attention to Gorilla Sports
Sports artist Ted Watts has been drawing (and painting) attention to sports for over a third of a century and a lot of it has been prepared for his college alma mater.
He has created over 55 pieces of original art for Pittsburg State (KS) University since 1976...including twenty-four straight years of Gorilla football promotional art (1983-2006). The Pitt State alum was jokingly nicknamed "Gorilla Guy" by classmates and friends years ago because of his fanatical support of Gorilla football.
"It's just business," he chuckles back with a wink.
His Pitt State client list includes the PSU Athletic Department, PSU Alumni Association, the Gene Bicknell Celebrity Charity Golf Classic and the TeamKong web site. A comprehensive list of all of Ted's Gorilla Graphics is listed below.
Watts, a 1960 graduate of Miami, OK high school, transferred to PSU from Northeastern Oklahoma A&M; junior college in Miami in the fall of 1962 to complete his degree requirements for a planned career in the field of art.
He graduated from Pitt State in January 1966 receiving his Bachelor of Fine Arts degree (BFA 1966) that May. He was voted as an Outstanding Young Alumnus of PSU (1976); named a PSU Meritorious Achievement Award winner (1988) and enshrined as a member of PSU's Athletic Hall of Fame (1999). In addition, he is a past president of the Pittsburg State Alumni Association (1982-83) and was a charter member of the PSU Athletic Advisory Committee.
Examples of selected art from his Pittsburg State art collection are shown in the examples below.
You may purchase reproductions of many of Ted's PSU Gorilla graphics by emailing Ted with your inquiry about prices and availability.
Reproduction rights and exclusive licensing by Ted Watts Art Studio
The Split Face Gorilla is copyrighted and exclusively licensed by Pittsburg State University.
---

Ronald Moore, RB
1992 Harlon Hill Award Winner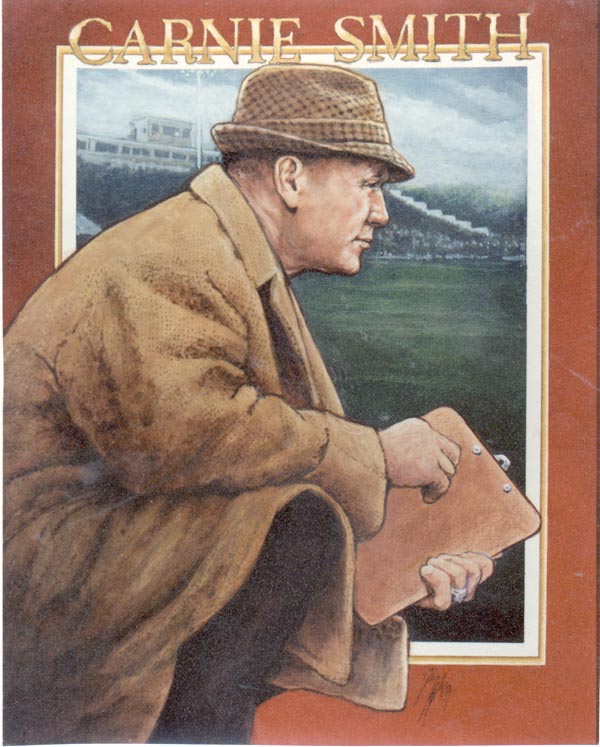 Carnie Smith (1949-66)
116-52-6 (.684)
National Champions -1957 & 1961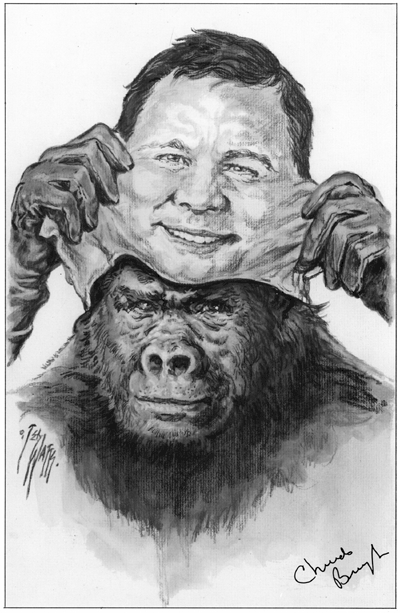 "Secrets of the Jungle"
Chuck Broyles Unmasked

Christmas Gift -1991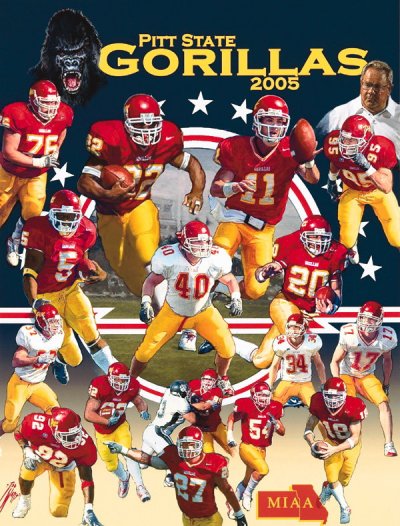 Pitt State Football 2005
Poster/Cover Art
Featuring Head Coach Chuck Broyles and Players (L-R from Top Row): Chad Weeks (76), Germaine Race (22), Andy Majors (11), Ryan Meredith (95), Justin Bean (5), Josh Lattimer (40), Joe Taylor (20), Chris Jaax (37), Brandon Twito (82), Cole Vap (99), Doug Schibi (54), Matt Sauber (34), Noah Hoppe (17), Brandon Jones (92), Jeremy Neville (27) and Nick Smith (18)

Pitt State Football 2006
Poster/Cover Art
Featuring Head Coach Chuck Broyles and Players; Germaine Race, RB (#22); Ryan Meredith, DE (#95); Bryan Pray, WR (#1); Nathan Alleman, PK (#89); with Derek Ryan, WR (#21 - holder); Eric Clawson, WR-(#15); Nathan West, LB (#31); Justin Bean, RB (#5); Grant McDonald, LB (#10); Pierce Curran, WR (#12); Nick Dellasega, DB (#23); Dustin Walters, RB (#29); Grant Stephenson, P (#33); Zac Robinson, OL (#78); Jeremy Moss, TE (#87); Ike Eguae, DL (#98).
More PittState Football Art